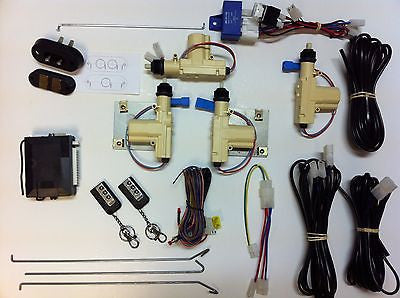 T4 Designer 3dr & Twin Rear Central Locking Kit & Keyless Entry
T4 Transporter 1990-2003 Designer Central Locking Kit with Fully Integrated Keyless Entry System
This Kit has been specifically made for the T4. It comes with all parts needed to install the full Central Locking and Keyless Entry System that will protect and secure your vehicle. Although the kit is supplied with full illustrated, step by step instructions it is advised that the installer should have a reasonable understanding of auto electrics.
Why do we use MES actuators? MES are a Swiss Automotive company that invented central locking there actuators have been used by all the main vehicle manufactures around the world.
Why Buy From Us?
Original suppliers to VW UK >2003
OE quality Swiss made actuators with 2 year guarantee
Thousands of kits sold around the world over the last 15 years
E marked standards
Fully integrated alarm system with shock & ultrasonic sensors
Multi featured alarm system with built in relays
Installer friendly with easy to follow step by step quality instructions
Up to 40% reduction in installation time over conventional kits
No waiting - Free next day delivery service
Whats in the box:
T4 3dr Central Locking kit inc 1 Sliding Door
T4 Twin rear door Kit
MES actuators
Specific pre shaped rods made for the T4
VW retaining clips
Sliding door contacts
Wiring harness
All necessary fixings
Silicon Keyless (Quality Keyless Entry) with specific instructions
Full Instructions, templates and wiring diagram
Keyless Entry Features:
2 stylish & sleek remote transmitters
Central locking system interface
Car finder facility
Led indicator with 2 levels intrusion memorised indication
Auto re-lock / re-arm
Manual override reset function
Headlights-on reminder
Door switch sensing and programmable by pass mode
Optional sensor input and programmable by pass mode
Hazard lights short circuit tampered protection
Silent arm / disarm by transmitter
Non volatile programmable features
Auto hazard lights flashing
Valet / Service mode
Door not properly closed warning
Instructions + Wiring diagram
Info On Our T4 Transporter Central Locking, Keyless Entry & Alarm System
We have redesigned the kit to make it installer friendly and have managed to cut the installation time dramatically. There are different parts available for Tailgate or Twin Rear Door vans.
All kits are now supplied with either a fully integrated Alarm System, with both Shock and Ultrasonic Sensors, or if preferred you can buy the Keyless Remote Control model.
For T4's with Tailgates we have invented a unique Boot Opener similar to what you find on most modern cars. You simply press a button on the remote allowing the tailgate to pop open.
If your van is already fitted with central locking from us, you can buy an Alarm System only with simple instructions that show how to connect the alarm to the central locks. It is our kit if the door actuators are white MES motors or if the blue timer relay unit (mounted in the dash) is MES.
Note:** Our central locking system was supplied direct to VW UK between 1998 >2003 so if your van already has central locking fitted there is a good chance it is one of ours.
Don't be fooled into buying a £30 kit off eBay that will take forever to fit and then the motors fail after 3 months or so. This kit is excellent quality and all the hard work has been taken out of it by supplying quality parts and specific instructions on how to fit.
---
We Also Recommend

Liquid error (layout/other line 39): Could not find asset snippets/sold_products.liquid